A Painless, Efficient New Treatment for Plantar Warts by SWIFT (R)
Most people will develop one or more warts on their feet at least once in their lifetime. And while foot warts may not be as "serious" as, say, an ankle sprain, they can still be irritating, embarrassing, and sometimes painful.
Worse, warts can spread to other areas of your body (or even other people), and traditionally have been very resistant to treatment. That is, until now.
We're proud to be the first clinic in Northern Colorado using a new wart treatment called Swift, which we'll talk more about in a moment. First, let's take a closer look at the condition itself.
PLANTAR WART SYMPTOMS
The most recognizable symptom of a plantar wart is the lesion itself. These viral growths have a rough, grainy appearance. Although warts can appear anywhere on the body, the term plantar wart specifically refers to warts on the feet, and they often tend to be found on the toes or soles.
It is often possible to see tiny black dots, which some mistakenly call "seeds." In fact, these are simply tiny, clotted blood vessels.
When a plantar wart is positioned in a weight-bearing location, or at a point that is constantly rubbing against the inside of your shoe, it can result in tenderness, discomfort, or even pain while standing or walking.
Swift ® Microwave Generator
THE NEW TREATMENT SYSTEM
Swift is a new treatment protocol for warts that offers our patients significantly faster, easier, safer, and more effective results for wart removal that previous methods, such as using peeling chemicals or cryotherapy.
The procedure itself only takes a couple of seconds. Using a handheld tool, we deliver lower-power microwave energy to the layers of skin surrounding the wart. The microwaves excite water molecules and generate heat and friction, which in turn draws in proteins and activates your immune system.
This is critical, as the immune system normally ignores the layers of skin where warts form. That's why warts take so long to go away on their own! But with Swift, you direct your body's attention exactly where it needs to go, and help it quickly build up an immunity to the strand of HPV causing your wart. In short order, the virus is cured and your body can start re-growing new, healthy tissue.
Aside from minor discomfort during the 2-3 seconds of application (which is similar to an injection), the Swift treatment is not painful and should not produce any lingering symptoms. No anesthetic is required, no downtime or follow-up care is necessary, and most (although not all) people only need a single treatment.
SEE THE RESULTS OF THIS NEW TYPE OF IMMUNE THERAPY THAT TREATS THE ROOT CAUSE OF PLANTAR WARTS: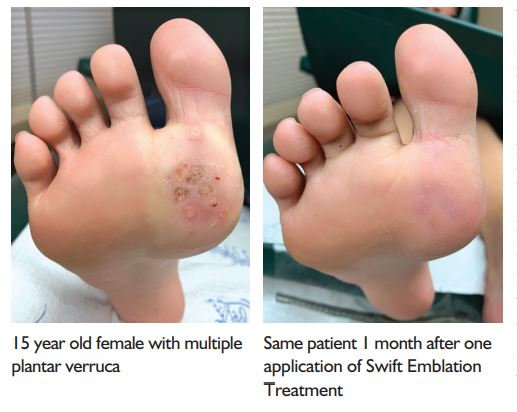 BENEFITS OF THE SWIFT® DEVICE:
Immune therapy, though effective at treating plantar warts, has conventionally relied on medications or injections on the site of the affected tissue. The Swift device offers several benefits in treating the root cause of plantar warts. Chief benefits include:
Virtually painless: The treatment involves minimal discomfort (lasting only a few seconds)

Minimal debridement: Microwave energy does not break the surface of the skin and instead penetrates the tissue to a pre-determined depth.

Minimal recovery time: Patients are able to return to normal activity after treatment.

Quick procedure: Sessions last between 5-10 minutes.

Safe & Clean

Leaves no evidence of scarring
SWIFT® MICROWAVE APPLICATOR
SWIFT® MICROWAVE APPLICATOR
The applicator is designed with an internal sensor that will only allow the device to be used if a new, unused applicator tip is attached. This is to prevent cross-contamination between patients.
FAST & EFFICIENT
As microwave energy travels to a precise depth, water molecules within the tissue area begin colliding and creating localized heat energy, targeting only the treatment area. The entire process lasts between 5-10 minutes with reduced post-procedural padding or dressing.
SIMPLE & CLEAN
The Swift® device is designed with a highly contained treatment zone. The microwaves travel in straight lines with no lateral spread, as seen in other procedures such as Cryotherapy. The treatment device also features a disposable tip, which eliminates the risk of cross-contamination and the need for sterilization.